Yoshi's Island 3
All Categories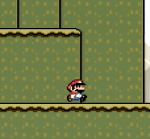 👀 Visual Cue:
Tap jump at this point in order to get to the message block, then do a full jump to get to the next block.
The first non-trivial jump of the game is Box Jump--getting P-speed and jumping from the message block to the brown swinging platform's pivot. After that, keeping P-speed for the rest of the level is fairly easy. To save an extra game second, run along each of the brown platforms so Mario gets a short boost from each one.
Video: Yoshi's Island 3 - Small Only Source: Bramz
Lunar Dragon
Regaining P-speed after exiting the underground section is very tight without hitting the midway point. If you do touch it, you will probably have to damage boost through the Koopas in Iggy's Castle.
Video: Yoshi's Island 3 - Lunar Dragon Source: Linkdeadx2