Back Door
Back Door
Cape Categories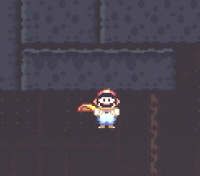 👀 Visual Cue:
Fly so that mario's head hits the ceiling at this point, this lines mario up to stop the first mechakoopa without slowing down. The vertical line above makes a good cue for this.
Video: Back Door - Cape Source: Sten
No Cape Categories
Video: Back Door - No Cape Source: Sten
Bowser
Cape Categories
Cape Kill is very strongly recommended, as it is incredibly consistent, and the fastest way to kill bowser in most categories.
Video: Cape Kill Source: Sten
Here is a very good tutorial for cape kill, showing all the visual cues for each hit. Check the video description for more details.
If running from the right side for the second hit, use the same visual cue to start running, then fly from the second rectangle from the left.
Video: Cape Kill Tutorial Source: Linkdeadx2
11 Exit (Cloud)
Beginner Strat
Video: Cloud Bowser Fight (Beginner Tutorial) Source: drams_cat
Intermediate Strat
Video: Cloud Bowser Fight (Intermediate Tutorial) Source: drams_cat
Advanced Strat
Video: Cloud Bowser Fight (Advanced Tutorial) Source: drams_cat
11 Exit, No Cape (Cloud)
Beginner Strat
Video: No Cape Cloud Bowser Fight (Beginner Tutorial) Source: SilverStar6609
Intermediate Strat
Video: No Cape Cloud Bowser Fight (Intermediate Tutorial) Source: SilverStar6609
Advanced Strat
Video: No Cape Cloud Bowser Fight (Advanced Tutorial) Source: SilverStar6609
No Cape Categories & Small Only
Video: Bowser Fight - Small Only Source: Rezephos