Choco-Ghost House
Cape Categories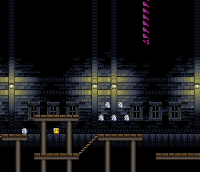 It is important to note that above this stage there is a pipe that can get in the way while flying over the stage. Fly just barely off screen, as there is not much room.
Safe Strats
Video: Choco-Ghost House - Cape (Safe) Source: Sten
Fast Strats
These Strats save a second at most, and are quite tricky.
The Door fly at the end only saves time if you land on the very right of the platform after the boo bounce.
Video: Choco-Ghost House - Cape (Fast) Source: Sten
No Cape Categories
Jump immediately after the first door in case you miss it, or just wait and attempt the door after the hole has moved out from under it.
Video: Choco-Ghost House - No cape Source: Sten