Vanilla Fortress
Cape Categories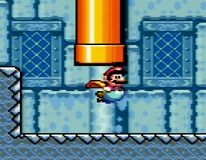 👀 Visual Cue:
Spinning the cape at this point may prevent the thwomp from spawning. Please note that this is reliant on the sprite spawning framerule, so this only has a 50% chance of working.
No Thwomp Despawn
Video: Vanilla Fortress - Cape (No Thwomp Despawn) Source: Sten
Thwomp Despawn
A faster Reznor kill is also shown in this video.
Video: Vanilla Fortress - Cape (Thwomp Despawn) Source: SilverStar6609
No Cape Categories
Video: Vanilla Fortress - No Cape Source: Sten