Groovy
Groovy
← Awesome ~ Mondo →
Powerups
Lunar Dragon
Goal Times

| | |
| --- | --- |
| 96 Exit (No Boss Kill) | 261 |
96 Exit
Normal Strat
Video: Groovy - Cape, Blue Yoshi Source: Sten
Fire Grab
Easy Grab
Video: Groovy - Cape, Blue Yoshi, Get Fire (Easy Fire Grab) Source: Sten
Fast Grab
This fire grab is not recommended, as it is harder and slower than Awesome flower.
Video: Groovy - Cape, Blue Yoshi, Get Fire (Fast Fire Grab) Source: Sten
Boss Kill
See the Boss Kill page for more general information about Boss Kills.
Jump and stick out Yoshi's tongue on the same frame in order to get the double tongue consistently.
Video: Groovy Boss Kill Source: Sten
Video: GBK Tutorial Source: Bramz
Boss Kill with Scroll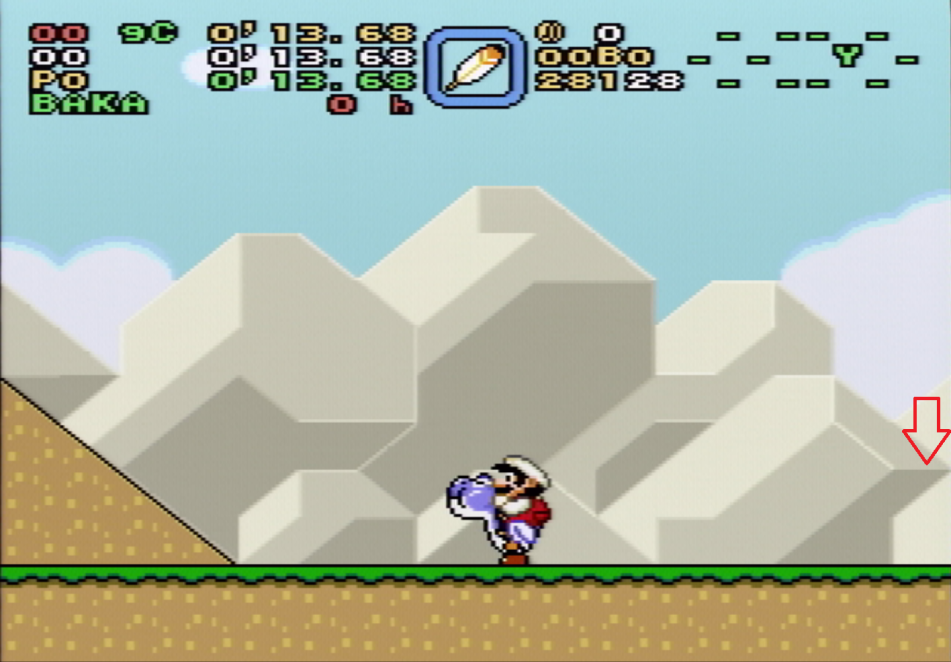 👀 Visual Cue:
Use this dark spike in the background to know when to stop moving left. If you see the tip, you're too far right and if the flat is lined up with the right side of the screen, you're too far left.
Video: Groovy Boss Kill with Scroll Source: SilverStar6609
Normal Fly Backup
This is a rare situation, but in case there's no shell for Yoshi to fly with (e.g. after failing the Boss Kill), it is possible to normal fly through the rest of the stage without losing further time.
Video: Groovy, Cape, Yoshi (Normal Fly Backup) Source: Lui
95 Exit, No Cape
Video: Groovy - No Cape, Blue Yoshi Source: Sten
Lunar Dragon
Video: Groovy - Lunar Dragon Source: Umari0