Cloud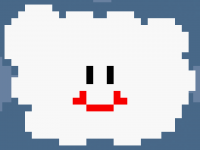 The cloud is an item used by Lakitu and is also known as "Lakitu's Cloud". It is usually obtained in the level Yoshi's Island 2 for the categories 11 Exit and 11 Exit, No Cape.
For 11 Exit and 11 Exit, No Cape, it is common to get the cloud item here and take it all the way to the Bowser Fight. The goal here is to despawn the koopa on the right pixel, then use Yoshi and a Shell to do an item swap with the charging chuck later in the level. For a more detailed explanation, check out Dotsarecool's video below and Sethbling's Cloud Documentation.
Video: Scrolless Cloud Source: Dotsarecool
Cape Cloud Fight
Beginner Strat
The goal of the beginner strat is to get newer Cloud runners accustomed to using the cloud, while still being fast. It is not the fastest strat, but is the safest strats to use. done by using both Mecha-Koopas per phase to hit Bowser. No Ball Skip.
Video: Cloud Bowser Fight (Beginner Tutorial) Source: drams_cat
Intermediate Strat
The goal of the intermediate strat is to introduce a Ball Skip in the second phase of the Cloud Fight. The strats are still safer than Advanced strats and faster than Beginner strats.
Video: Cloud Bowser Fight (Intermediate Tutorial) Source: drams_cat
Advanced Strat
These strats are not safe in the slightest and are the hardest to master, or even get good at. Advanced strats skip animations a lot faster by attempting to skip Bowser's animations as soon as possible, if not, instantly. It also includes as many insta-hits on Bowser as possible as well.
Video: Cloud Bowser Fight (Advanced Tutorial) Source: drams_cat
Here is a big picture of the cloud